Chanel Couture Spring 2009, Paris, Karl Lagerfeld
2009 Spring Couture: Chanel
Seems like Karl Lagerfeld has gotten all loved up on us as he presents the Spring couture collection for Chanel. The purely white show was like a big fashion hug and fresh page for the classic French fashion house. It took place in a former bank and I think the collection represents a fresh start for the industry in such tough financial times. The whole room was decorated with white paper from the tables to the columns and ceiling. Even the models were decorated with white paper wearing head pieces made by Tokyo milliner, Kamo.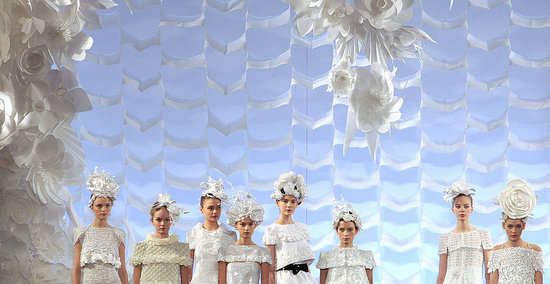 Shapes were kept quite simple with A-line dresses and classic cropped Chanel jackets, but the detail came in the applique. Many beading techniques were used and there was applique floral detailing. Capped shoulders and waists were exaggerated subtly with lace and frills.
For images and the rest of my thoughts, just read more.
There were many separates, with tailored trousers and skirts, possibly offering Karl's only nod to the recession. The cream and pure white colour palette references classic Coco Chanel, as these were amongst her favourite colours from the very early days. Occasional black items added a sharp shot of reality.
Karl commented on the credit crunch, telling The Telegraph,

"We are entering a phase of reality fashion. This is right. This is exactly what Chanel did; she wore the clothes she designed. We talk about the financial crisis, but it is also healthy. People who have been making 20% increase, year after year, and then are not making 20% any more, they are not poor. So don't cry for them. We have got into bad habits and it is not a bad thing to have a new starting point."
Celebrities in attendance included Keira Knightley (face of Mademoiselle) debuting a new fringe, and Anna Mouglais who stars in one of the Coco Chanel films.