Chloe Green Daughter of Sir Philip Wants Her Own Topshop Collection
Chloe Green Wants Her Own Clothing Line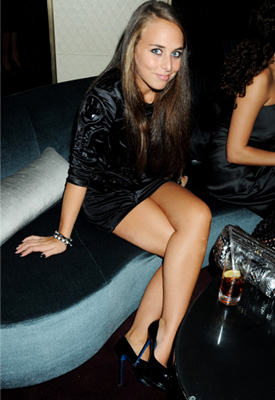 You are probably familiar with the name Chloe Green. She's the daughter of Arcadia boss Sir Philip Green and made a brief appearance in Topshop New York in 24 Hours. She's only 18, but since dropping out of her A levels has been living in Mayfair with her father and learning all about the fashion retail industry.
This weekend, father and daughter spoke to The Sunday Times Magazine about their relationship and working together. Sir Philip explained that although his children are very privileged they understand hard work. "What would make me angry is if Chloe thought she didn't have to work. This is a pretty unique family business, and it could become a very long-term family business. They're going to have to earn it, not be given it."
Chloe has certainly taken an interest in the family business and regularly attends meetings with her father. She explained, "Fashion isn't all glitz and glamour, and I'd never want to be a model. Kate [Moss] and Naomi [Campbell] are always telling me what a tough career it is."
She added that a clothing line wasn't out of the question. "Dad often says that I should do something for Topshop. Hopefully, one day I might design a Chloe Green for Topshop range. I've not really thought it through yet. But I don't think it's asking too much."