Chloe Green Talks Fashion Week, Style and More at Burberry!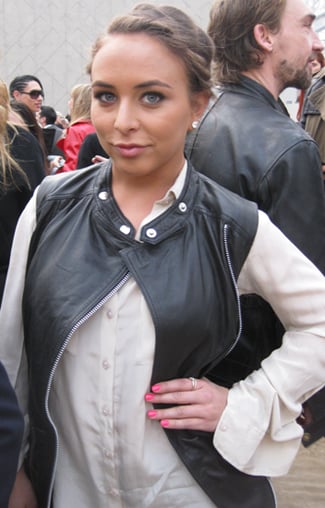 On Monday afternoon at the Buberry Show I spoke with Made in Chelsea star and Topshop heiress Chloe Green. She was really easy to approach and her beauty style du jour was cute and flirty with shellac neon pink varnish on her nails and her french plaits intertwined into a bun in her hair. She looked fresh and age appropriate attending the soiree with her Dad. She even posed for this cute photo for me. Read all about what she had to say here:
On her favourite pieces from the Burberry show: I quite liked the jackets, especially the tweed ones in grey and black.
On the beauty products she can't live without: Right now, I'm obsessed with this lip colour. (She pulls a gloss out of her bag that turns out to be Clarins Instant in Light Natural Lip Perfector).
On her nail colour: Right now I'm wearing a fuschia pink shade. It's one of those shellac colours that won't chip for a while. Nails are a fun thing to play around with.
On her style and some of her favourite brands to wear: I love Giuseppe Zanotti shoes, also Christian Louboutin shoes, Topshop clothing and designer accessories.
On Autumn/Winter 2012 London Fashion Week: Even though I love fashion, I've only been to two shows this season; Burberry and Topshop. But, I will be at the BRITS tomorrow, although I haven't decided what to wear yet! (As it turns out, Chloe wore a bright, popular dress from Mary Katrantzou).