Chloe Sevigny for Opening Ceremony in London
Fab Blab: Chloë Sevigny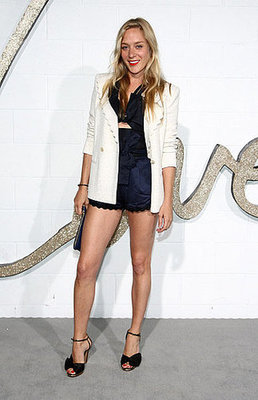 Chloë Sevigny is one of my favourite fashion icons. She makes quirky style look easy, and she always has a unique take on trends. Chloë also designs for Opening Ceremony which is already popular in the States and will soon be available here. Her latest collection will hit Selfridges and Dover Street Market in August.
This weekend Sunday Times Style caught up with her to ask her about getting older, young celebrities and being involved in ad campaigns. Her style is effortless, which not many celebrities seem to achieve any more and it amazes me how she doesn't look like she's aged one bit over the years! She commented, "I'd never want to become famous now. I feel like there's a real cockiness with young people today. Maybe it's protective, a shell. But the new celeb daughters and sons, the pop stars, are wise beyond their years."
Despite looking young, she confesses to being aware of her age. "I saw these lace Doc Martens, and I was like, I can't wear those, I'm 34! Things like that are completely inappropriate. I'll have to wait until I'm 75, then start wearing them again..." However, Chloë does like to stay in tune with the fashion industry, "It's fun to be involved in fashion campaigns, to stay relevant to a certain extent, but I've never consciously pursued it, and I'm not going to start now."