Christian LaCroix Finance Problems Credit Crunch Bankrupt
Fab Flash: Christian LaCroix Files for Bankruptcy
Another sad story in the fashion industry this morning as one of France's biggest names announces financial trouble. Christian Lacroix has reportedly filed for voluntary bankruptcy in an attempt to protect the company from creditors. The current economic crisis and company expansion has been blamed for the situation.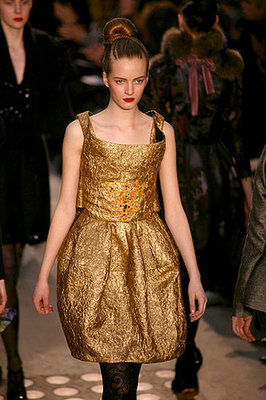 French newspaper Le Figaro revealed, "According to our information, Christian Lacroix was declared insolvent on Friday. The representatives of the employees were informed yesterday evening at a works council. The Commercial Court of Paris will decide next week on a receivership or liquidation [approach]."
Despite the troubles the fashion house, which was owned by LVMH until 2005, is hopeful of a buyer and insists it will still be present at Couture week in July. LaCroix's CEO Nicolas Topiol told WWD, "The perception of the brand and its power is very strong. It's the key to future development." Hopefully the company will be able to bounce back from this and continue to dress some of our favourite ladies including Mary-Kate Olsen.