Christian Louboutin on High Heels, the Queen and Barbie 2010-03-22 03:40:10
Christian Louboutin Wants to Shoe the Queen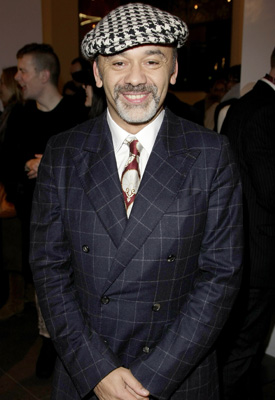 Footwear genius Christian Louboutin gave an interview to The Guardian this weekend where he spoke candidly about the comfort of heels, who he'd like to dress and those Barbie rumours.
Throughout the interview he stressed that he never wanted to be part of the fashion world. He commented, "I never was interested in being part of the fashion world – I just wanted to design shoes. I didn't even know Vogue existed when I was growing up. Vogue, what is that?" His shoes are adored by celebrites like Madonna, Carla Bruni and Lady Gaga, but he revealed that the woman he'd really like as a customer is "The Queen of England".
High heels are famously one of the ways which women suffer for fashion, although luxury shoes are often assumed to be more comfortable. Louboutin discussed comfort, but it seems that isn't his main concern. "It is important because a woman doesn't look good if she's not comfortable. But I wouldn't take it as a compliment if someone looked at one of my shoes and said, 'Oh, that looks like a comfortable shoe'. There is a heel that is too high to walk in, certainly. But who cares? You don't have to walk in high heels."
Finally, he addressed the rumours that when he created a Barbie doll, he asked for her ankles to be skinnier. He explained, "The ankle was a bit straight and there's nothing more pretty than a very curved ankle. So I said to them, the one thing that could really give her perfection is to give a curve to her ankle. It's not like she's going to suffer for it."