Claudia Schiffer to Launch Clothing Line of Cashmere or Handbags
Claudia Schiffer Wants to Launch Clothing Line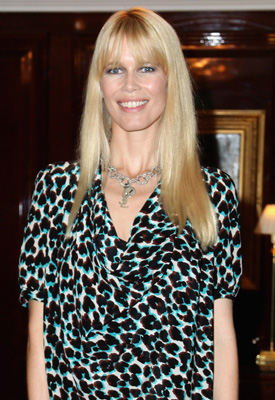 Claudia Schiffer has been in the fashion business for 21 years. The German born supermodel has been sharing her wisdom on the industry with the world at the IHT Luxury Conference in Berlin. The event which has seen insiders like Christopher Bailey, Jefferson Hack and Natalie Massenet taking to the stand to talk about the changing role of social media.
Claudia talked about her desire to remain modeling for "as long as possible", but expressed an interest in developing her own clothing line. "I have no definite first product in mind, but I would love to do cashmere. It's something I wear all the time myself, but I'd love to do something a bit more price-friendly. Plus a lot of cashmere lines are very classic and timeless, while I'd want to do it a bit more fashion. Or I could imagine doing handbags."
Claudia has recently been revealed as the star of Chanel's Spring 2010 campaign. Do you think she should venture in to design?