Cloth Kits Video Skirt Sewing Easy
Fab Worthy: Cloth Kits
One of my new years resolutions was to teach myself to sew. Many times I have found myself considering buying an item which I'm convinced I could easily knock up myself. So, I got myself a sewing machine and found out all about Cloth Kits who have made garmet making easy (or easier anyway)! I received this lovely package (below right) and put some time aside over a bank holiday weekend to make my skirt. The kit contains everything you'll need to make the skirt and the pattern is printed directly on to the fabric so that essentially all you have to do is cut it out and sew it together!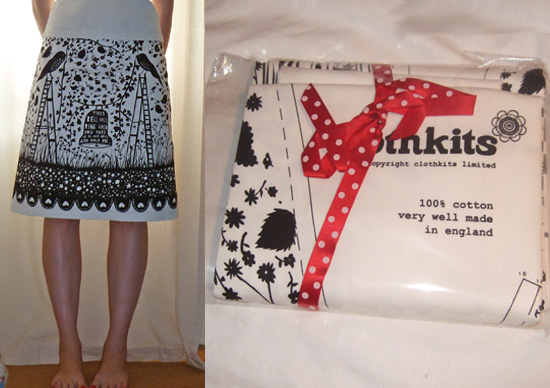 For more information and a video of how easy it is, just read more.
The instructions that come in the package are relatively easy to follow, I only struggled a tiny bit when more images of the finished garment might have been helpful. I have never made a skirt before in my life so the finished result is testament to how simple they make this! My skirt features a unique Rob Ryan print with cute romantic phrases on it, but there are plenty to chose from. What do you think of my first sewing endeavour?