Come Fab Finding With Me: Cinema with the Girls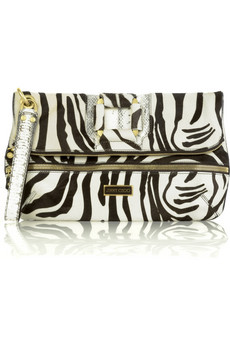 Unless you've been on another planet for the past six months or so you'll probably be aware that a movie is about to come out about four women in New York called Sex in the City, ring any bells?! Well, I don't know about you but this is one cinema visit I plan on dressing up slightly for so this week I'd like you to put together an outfit for an evening at the cinema with the girls!
I'll start you off with this very funky Jimmy Choo animal print clutch (£895) from net a porter.
Now let's go Fab Finding! Be sure to come back and tell me your Fab Finds are up, or just tag your Fab Finds with Cinema with girls.
Now, you can build outfits by creating a list of clothing items. We have everything you need to build outfits, and you can use your Fab-Find bookmarks, too. This is an even better way to put together an entire outfit when you are completing your Fab-Finding missions.
To learn what a Fab Find is and how to make one, click here. For a more detailed explanation of bookmarks from geeksugar click here.