Come Fab Finding With Me: London Fashion Week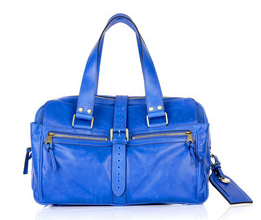 London Fashion Week kicks off this weekend and as always I'm desperately searching through my wardrobe and trying everything on whilst I decide what to wear to the shows and parties! As London is the home of creativity, anything goes!
It's best to look smart, so I'd recommend heels, but the rest is up to you. I'll start you off with a brightly coloured Mulberry Mabel handbag (£695) which is perfect for holding everything I might need.
Now let's go Fab Finding! Be sure to come back and tell me your Fab Finds are up, or just tag them with London Fashion Week. You can build outfits by using your Fab Find bookmarks and then creating a list of your favorite clothing items.
To learn what a Fab Find is and how to make one, click here, and for a more detailed explanation of bookmarks from GeekSugar click here  —have fun.