Come Fab Finding With Me: Prince Charles' 60th Birthday Party
Come Fab Finding With Me: Prince Charles' 60th Birthday Party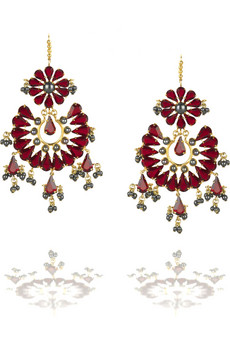 Ok, so today's Fab Finding challenge maybe unrelatable but it will be fun I promise! Earlier today I heard that Chelsy Davy has been invited to Prince Charles' 60th Birthday Party and it got me thinking about what she might wear. Always one to help, I thought that maybe we could offer Chelsy some possible outfit suggestions. Obviously as the girlfriend of Prince Harry cost is no obstacle so you can really go all out.
I'll start you off with these gorgeous Maharajah chandelier earrings (£510) by Alexander McQueen.
Now let's go Fab Finding! Be sure to come back and tell me your Fab Finds are up, or just tag your Fab Finds with Prince Charles Birthday.
Now, you can build outfits by creating a list of clothing items. We have everything you need to build outfits, and you can use your Fab-Find bookmarks, too. This is an even better way to put together an entire outfit when you are completing your Fab-Finding missions.
To learn what a Fab Find is and how to make one, click here. For a more detailed explanation of bookmarks from geeksugar click here.