Come Fab Finding With Me: Weekend City Break in the UK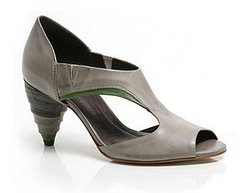 Packing for a weekend away is always difficult because you don't want to pack too much and you certainly don't want to have too little. I was hoping you could help me with deciding on an outfit for a weekend away in the unpredictable climate of the North of England. It has to be appropriate for walking around (there is sure to be a lot of shopping) and warm as it still doesn't feel like Spring here.
I'll start you off with some funky heels from the Finsk range at Faith (£95) in grey as they're a great height for daywear.
Let's go Fab Finding! Be sure to come back and tell me your Fab Finds are up, or just tag your Fab Finds with UK city break.
Now, you can build outfits by creating a list of clothing items. We have everything you need to build outfits, and you can use your Fab-Find bookmarks, too. This is an even better way to put together an entire outfit when you are completing your Fab-Finding missions.
To learn what a Fab Find is and how to make one, click here. For a more detailed explanation of bookmarks from geeksugar click here.