Costume National CNC Solar Powered Handbag
Love it or Hate it: Solar Panel Handbag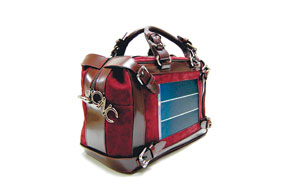 How many times has your phone/blackberry been deemed completely useless as you run out of battery at the most inconvenient moment possible? Well, how useful would it be if your handbag doubled up as a charger?! It's a moment of pure practical chic genis.
C'N'C Costume National designer Ennio Capasa has designed this bag with fine strips of mini solar panels on the front. He told WWD, "I put a challenge into the project: to make Italian luxury contemporary. I imagined a pop, chic bag and I am satisfied with the result."
What do you think of the actual handbag? Too geek chic?