Crisp Collars Are On Trend For Autumn
Trend Alert: Crisp Collars For Autumn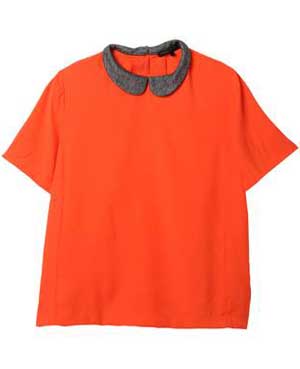 Whether they're rounded as in a Peter Pan shape, pointy like a men's starched shirt, ruffled pearl or scalloped, one thing is for sure — collars on dresses and tops are all the rage for Autumn!
I've got my eye on a few key pieces right now, but the front runner is this orange and grey Jouette Orange Top from Maje (€140). I think it would look cute with white jeans, black pants, or a dark denim wash. It could even work with a pencil skirt — ahhh, the possibilities are endless, which means I've just justified buying it!
Below are even more collar pieces for you to peruse. Leave a comment, and let me know what you think of this Autumn trend.