Daisy Lowe Announces Jewellery Line Collaboration with Swarovski
On Our Radar: Daisy Lowe Launches Jewellery Line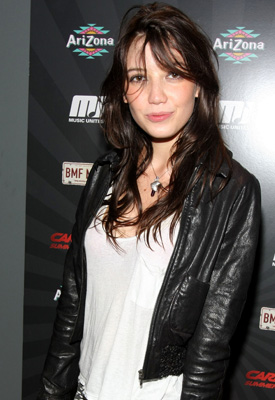 Do you remember back in 2007 when everyone was releasing clothing lines? There was Lily Allen for New Look, Kate Moss for Topshop, Madonna for H&M... Well, now the trend has developed as instead of full collections it seems that celebrities are opting for just jewellery. Lily Allen already unveiled her collection and yesterday it was announced that Daisy Lowe would be following suit.
Daisy is collaborating with Swarovski for the small capsule collection that is expected to launch in January. Daisy explained to W Magazine,

"It's four pieces – a necklace, bracelet, ring and set of earrings. They're kind of magical in a dark, romantic way. I've incorporated black and white, star and moon crystals and multiple strands of chains. I wanted it to be about the earth, moon and planetary movements, all that kind of weird stuff."
The idea of a clothing line isn't completely out of the question either. "I'm so in love with fashion and playing with clothes, so I would never say no [to designing fashion.]" Her Mother, Pearl Lowe, has just completed a line for Peacocks which Daisy is the face of and she thinks it would be "really fun" if they could create something together. Are you excited to see Daisy's jewellery line?