Daisy Lowe Stars in Pringle for Scotland Ad Campaign Spring 2009
Love it or Hate it? Daisy Lowe for Pringle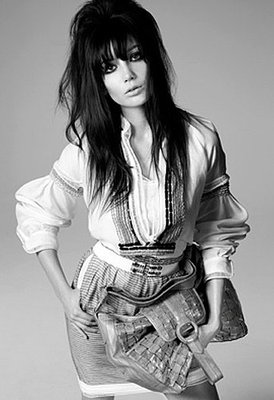 The gorgeous Daisy Lowe has been a bit quiet lately, maybe it's due to her Mother's sound advice? However, all of the ad campaigns which she lined up over the Summer are starting to appear beginning with Pringle of Scotland.
Daisy isn't alone in the campaign which also stars Pixie Geldof and Lydia Hearst all shot by Steven Meisel. Clare Waight Keller, creative director of Pringle told WWD, "We were looking at iconic faces…we wanted it to feel young, vibrant and very British. Pixie Geldof had been on our radar for a little while, and then we started looking at the friends she hangs around with....I liked the feeling of reality behind that, that it's not just pulled together for an ad campaign."
The ads will start appearing in magazines in the March issues. This advert sees Daisy looking slightly more grown-up and edgy than she normally does. Do you love it, or hate it?