Daphne Guinness Bought Isabella Blow's Wardrobe to Preserve It
Daphne Guinness Explains Why She Stopped the Blow Auction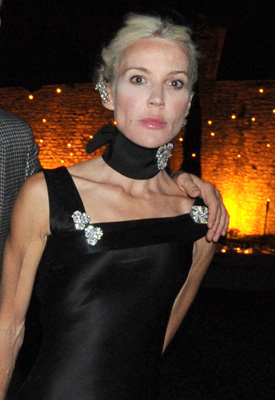 Daphne Guinness has decided to set the record straight about why she stopped the Isabella Blow auction. The auction was planned to sell Isabella's extensive wardrobe in order to help settle debts from her former estate, but Daphne reportedly bought the entire thing back in June.
She wrote a piece for the Financial Times explaining her decision. She writes, "The auction would not be merely a sale of clothes; it would be a sale of what was left of Issie, and the carrion crows would gather and take away her essence forever."
The sale was supposed to be kept secret as it was a complicated decision for Daphne. "Buying the collection to preserve it was both a very easy and extremely delicate decision to make; the challenge now is much more daunting: to find the right solution for posterity, one that would make Issie happy and to restore her to her rightful place in the fashion constellation."
To find out what Daphne intends to do with the pieces, just read more.
Finally, she hinted at her plans for the future of the collection.

"I would like this unique collection, marked by her grace and the fact it was so intimately hers, to allow people (whether students, lovers of fashion, historians) to remember her and benefit from her legacy, when we who knew and loved Issie are no longer here. For that, it needs to be kept whole; it is like a diary, a journey of a life, and a living embodiment of the dearest, most extraordinary friend."
I hope that an exhibition is planned of this extraordinary collection. Do you think Daphne made the right decision?