Diane Von Fursteberg Designs for Claridges and Creates Album 2010-03-04 03:40:57
DVF Expands Her Resume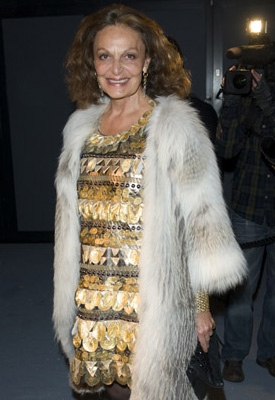 Diane von Furstenberg was in London for fashion week (I spotted her at the Central Saint Martins for Bally event) and it seems she has been a busy lady. Having recently recruited a new creative director following the departure of Nathan Jenden, she has now added a few more strings to her bow by, amongst other things, releasing an album.
Unfortunately, the New York based designer is not singing herself but rather has put together a compilation songs by her favourite female artists to celebrate International Women's Day. It's called Proud to be Woman and is available to download now. Profits from the album will go to Vital Voices which is a global womens charity.
In addition to this, Diane has also been working on a project with London's Claridges hotel. The designer has made over 20 rooms and suites which is her first foray in to interior design. She told WWD, "To me, Claridge's is the most glamorous hotel in the world; I regard it as my home away from home." The rooms will be unveiled at the end of June.