Dita Von Teese Unveils Details of Her Fragrance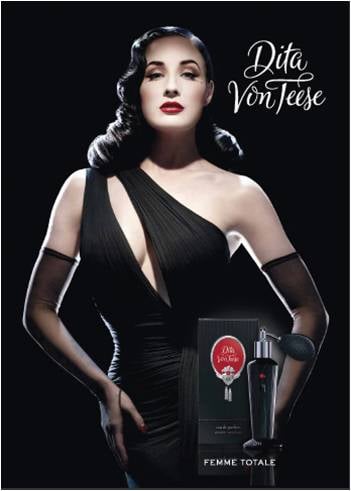 After working on her fragrance for a year, burlesque beauty Dita Von Teese is revealing details about it. Set to launch in Europe this October, the eponymous eau de parfum will arrive on US shelves in 2012. The scent will be a rich floral with peony, bergamot, and pepper top notes, a heart of rose and jasmine, and a musk and incense base; it's supposed to invoke the ideal "femme totale" Dita has envisioned.
The bottle, which has lots of vintage touches like a black silk tassel, vintage-style ball atomizer, and "nail polish red" pearl inset, was also a big part of the fragrance design for Dita. "I have always been a passionate collector of rare perfume bottles from the 1920s and 1930s," Dita said in a recent press statement. "My perfume's flacons need to be the absolute embodiment of my dream of glamour, mystery, beauty, and the femme fatale."