Does It Matter How Much Your Wedding Dress Costs?
It Really Doesn't Matter How Much Your Wedding Dress Cost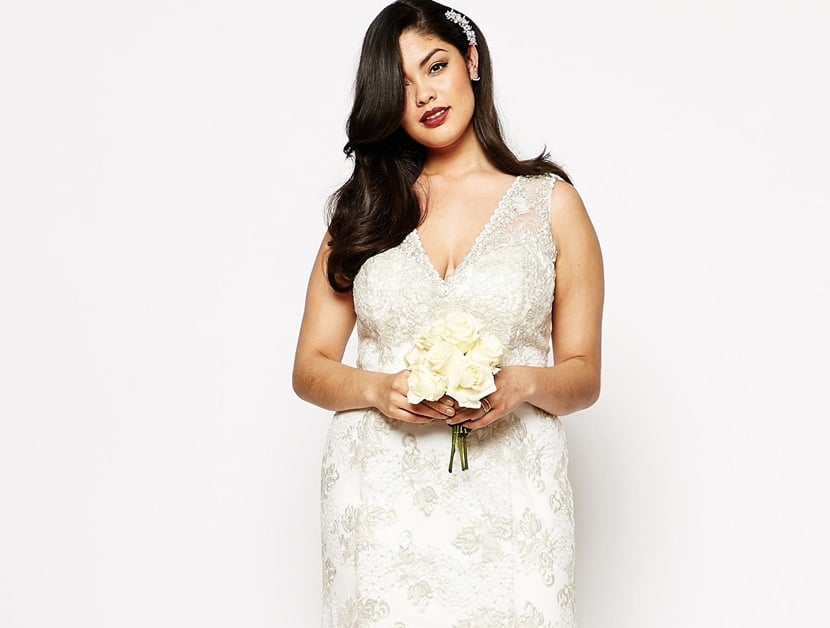 Over the last couple of years, we've seen many of our favourite fast-fashion brands branch out into bridal designs. There are more off-the-rack choices than ever before, from ASOS's recently launched bridal collection (including the above dress for £250) to chic new gowns from H&M and Debenhams. Plus, with fashion-conscious midrange options from cult labels like Self-Portrait and Needle & Thread, it's now easier than ever to look your best on your big day, regardless of your budget.
But according to journalist Rachel Wells, "Affordable wedding dresses at H&M and ASOS cheapen marriage." In an article for the New Zealand Herald, the writer explains that she spent $5,000 (about £2,500) on her own wedding dress and calls the recent influx of more affordable high street options "a little tacky," explaining that a mass-manufactured dress "somewhat trivialises the significance and sanctity of a wedding."
Aside from the obvious — that many people simply do not have the means to spend thousands on a wedding dress — there is so much that's wrong with her piece. While Wells says "I am well aware that not every bride can afford to, or would even want to, spend thousands of dollars on a bespoke wedding dress, and I'm certainly not suggesting they should," she contradicts herself immediately by using words like "cheap" and "tacky" to describe more affordable options. She may not be suggesting all brides-to-be follow her lead and buy an expensive gown, but she's definitely judging them if they choose not to. The whole piece reeks of privilege.
I don't believe for a second that her issue is to do with the ethics of manufacturing by fast-fashion retailers. There is a barbed comment about dresses "manufactured in a conveyor-belt fashion in a faraway factory," but there's no mention of the fact H&M's range is part of its Conscious Collection, the whole aim of which is to be more sustainable and ethical. And there's nothing to suggest buying a "proper" wedding dress is any more ethical, anyway. Unless you hire a dressmaker or do a lot of research into how specific wedding designers manufacture their gowns, there's a good chance the beads on a dress bought in a bridal boutique were sewn in a factory very similar to the one where they mass-produce those cheaper dresses.
Wells also describes the lack of occasion involved in buying a wedding dress off the rack. There's no day spent sipping Champagne and trying on giant blancmanges in front of your mum and your bridesmaids. Instead, you grab a (probably creased) dress off a rail and take it home in a plastic bag you paid 5p for, or click "buy" on a website. Yes, for some people this might be a slightly disappointing bridal experience. But for others, it is highly preferable to the pressure-led environment of your average bridal boutique.
Me, trying on wedding dresses in 2014. Surprise surprise, the sample did not fit.
I got married last year. My overall experience was a fun one, and I'm glad I tried dresses in boutiques (even though I eventually ordered my dress online), but I have read so many horror stories about dress shopping. It is not fun for everyone. Take a moment to consider the plus-size or very slim brides forced into size 10 or 12 samples and told to "imagine how it would look in your size." Or those who are not lucky enough to have family and friends who can go shopping with them but who would hate to do so alone. And how about the brides with anxiety issues who can't even get through the door of the boutique without having a panic attack? Not everyone wants the traditional experience.
These affordable dresses exist because there is a market for them. A big white wedding is beautiful if that is what you've always dreamed of, but a wedding is only one day, and the really important thing is the marriage that comes afterwards. No amount of focussing on stuff for your wedding makes your marriage better than anyone else's. Even as someone who has spent her whole life obsessed with wedding dresses, I was smart enough to know the dress was only a tiny part of something much more significant. There is absolutely nothing wrong with wanting to splash out on something amazing for your wedding, and you should not feel guilty for spending your money if that is what you want. But it doesn't make your wedding or your marriage superior to anyone else's. If a bride would rather save those thousands of pounds to spend on something else that is more meaningful to her, or if she just doesn't have the money in the first place, that doesn't cheapen her marriage. To suggest such a thing is beyond snobbery.
A wedding is significant as one thing and one thing only: the coming together of two people who love each other and want to spend their lives together. What they choose to wear, and how much they choose to spend on it, means absolutely nothing at all.
So if you want to get married in a custom couture gown worth tens of thousands of pounds, go for it. Enjoy your lavish day. If you want to go to the registry office in jeans, that does not make you any more or less married than anyone else.
When it comes to wedding dresses, one size does not fit all!