Donatella to Leave Versace, Economic Troubles
Fab Flash: Is Donatella Going to Leave Versace?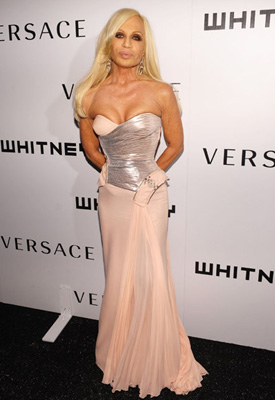 Just last week, Donatella Versace insisted that despite the financial problems the company would weather the storm arguing, You have to face the truth. For me, life is about chapters. Die and born again, die and born again. It's the story of my life."
This week it seems, however, that not everybody is convinced of Donatella's strength. A damning Newsweek article by Dana Thomas charts the "Tragic Decline of the House of Versace" which she claims has been falling apart since the death of Gianni, and that it's time for the company to move away from family control. "Many in the fashion industry believe it's time for the brand to continue without Versace family involvement — and some suggest that the family is starting to accept this idea too."
The Italian fashion house used to take over $1 billion in sales under the control of Gianni, but has since fallen to less than half of this. Some cite the remaining families resistance to adapt to new times and new economies, also the allowance of luxurious expenses. "There was zero expense control in the company, and the lifestyle was absolutely, positively insane," says the Versace source.
All of these problems are building up and you can't help but wonder if Donatella will be forced to leave. Do you think that she should pass on the control to someone outside of the family?