Donatella Versace on Americans, President Obama and Blogging
Fab Blab: Donatella Versace Starts Blogging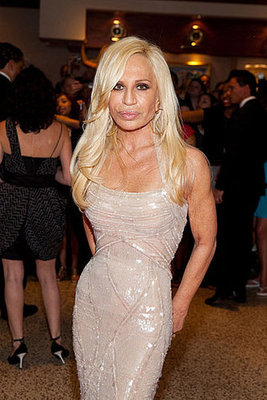 Donatella Versace is the latest designer to join the online community as she wrote a brief post this week for The Huffington Post. Despite previously saying "I don't do the Internet", Ms. Versace has shared her opinions with the world via a few words about the White House Correspondents' Dinner.
Donatella begins by humbling explaining, "This is my first ever blog, so I forgive me if I make any 'blogosphere faux pas". She then goes on to discuss the evenings events and the people present at the party including "lots of cool Hollywood people that I know and some who are friends of mine — Ashton and Demi, Sting and Trudi".
To hear more from Donatella, including her thoughts on Michelle, just read more.
She then talks about the changing perception of Americans following the election of the new president. She bluntly explains,

"Speaking from a European point of view, it is no exaggeration to say that it had got to the point where many in Europe regarded America as the enemy — and Americans were people we didn't even want to look at. It was almost as if the Europeans were simply against America and Americans. This was wrong, of course, and a result of the fact that there was confusion in our minds between the American people and the American administration."
The Italian designer could not discuss the event without commenting on Michelle Obama's style and it seems that the first lady has another fan!

"The first lady looked beautiful. It was so great to see a President's wife in a hot pink dress, a jewelled necklace with a pink flower and purple eye shadow. Great hair, great make-up — this is what we want to see: confidence."
What do you think of Donatella's first blogging attempt, do you agree with her opinions?