Donna Karan Stops Using Fur
Fab Flash: Donna Karan Agrees Not to Use Fur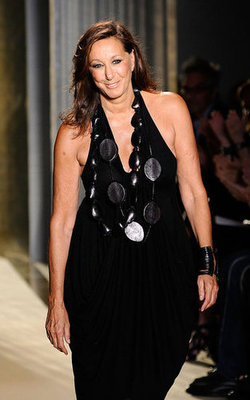 The catwalk shows for Autumn 2008 have prompted many to ask, has fur become acceptable again? It seems the opposite is the case for Donna Karan who just announced that she has "no plans" to use fur in the future. Karan has been under pressure from People for the Ethical Treatment of Animals (PETA) who have protested outside her fashion shows and at her boutiques for some time.
Recently they set up a site (which is now offline) DonnaKaranBunnyButcher.com and Tim Gunn sent both Karan and Giorgio Armani a video showing animals being skinned alive for their fur. Karan follows Ralph Lauren, Tommy Hilfiger, and Calvin Klein who all recently stopped using fur and skins in their clothing lines.
It's interesting that PETA has managed to make such an impact on the American fashion industry. What do you think of the news, do you think designers should reconsider including the fabric in their collections?