Edie Campbell Gets Caged For The Alexander McQueen Fall 2013 Campaign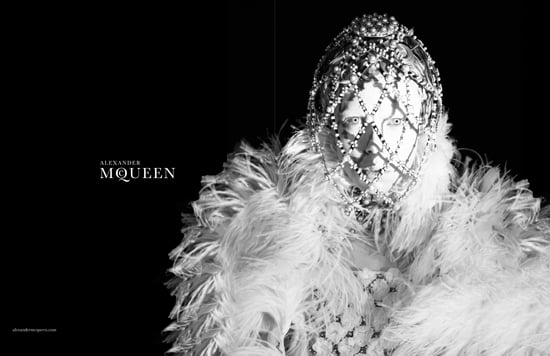 Photo courtesy of Alexander McQueen
If Edie Campbell is getting a big head from all the Fall 2013 campaigns she's landed (Lanvin, Marc Jacobs, and Jil Sander, to name a few), you can't tell in her adverts for Alexander McQueen. Among the many things she wears in the shots, which were taken by photographer David Sims, she dons the metal, pearl-studded head cage McQueen models sported on the runway. And even though she said she felt "not human" walking around in it, she thinks it's beautiful.
"I don't think it's at all about the idea of caging or entrapment — it's much more to do with glorifying and bejeweling somebody," she said in an interview with Harper's Bazaar UK. There's nothing misogynistic about it. It's the highest form of pageantry — they're practically works of art."
The clothes in the collection, however, are another story.
"I have to admit they're not hugely comfortable to wear!" Campbell said. "With layers of corsets and undergarments and waist-cinchers and hip implants, it's not like whacking on a shirt. You very much have to be dressed in it by somebody who knows how all the layers fit together."