Elizabeth Taylor: Surprising Facts About Her Fragrances
12 Surprising Facts About Elizabeth Taylor's Fragrance Empire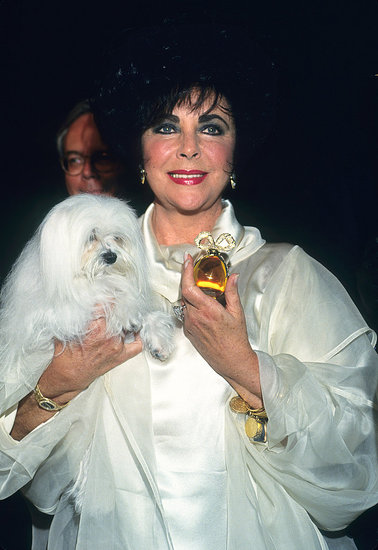 Elizabeth Taylor wasn't the first star to launch her own fragrance, but she was certainly the most successful one. Her debut scent, 1987's Passion, was an instant best seller; White Diamonds, launched in 1991, remains among the most popular today. You might know that, but we've found 12 surprising tidbits about Elizabeth Taylor's decades in fragrance. Keep reading for little-known facts about the most successful celebrity fragrance maker of all time.
Elizabeth said she felt like a "chemist gone mad" in creating Passion, her first scent. "I've always taken risks, and perfume is always something I've adored playing around with and mixing," she told reporters.
For the launch of Passion, Marshall Field's department store toasted Elizabeth with a fountain bubbling with violet-colored Champagne. Two-hundred fifty shoppers who purchased the $200 one-ounce bottle were invited to have tea with Elizabeth.
After Passion's launch, Taylor was hit with a lawsuit from Annick Goutal, which also had a scent called Passion. A judge ordered the Taylor scent be removed from 55 stores.
To promote Passion at Macy's in New York, Elizabeth arrived to a crowd of 7,000 people. A trumpet quartet, donned in their black-tie best, played Stravinsky's "The Rake's Progress" as she entered the store.
As part of Passion's two-year development process, more than $250,000 was spent on researching Elizabeth's public image. Every single person interviewed knew who she was.
Ex-beau Henry Wynberg sued Elizabeth, claiming that he effectively concocted Passion. The four-year lawsuit was resolved out of court.
Her second fragrance, White Diamonds, remains a best seller 20 years after its introduction, outselling stars like Jennifer Lopez and Sarah Jessica Parker.
Biographer Alexander Walker claims that Elizabeth tried to teach a parrot to say "White Diamonds" as a promotional tool. It didn't work.
In 1991, she starred in a 2:45 commercial for White Diamonds as part of a $20 million advertising campaign. This shorter version appeared on television.
Faced with hecklers on her White Diamonds fragrance tour, Elizabeth used the opportunity to destigmatize people with AIDS.
Last year, the actress and activist released Violet Eyes, which was named by her fans on Twitter. She preferred "Follow Me," but her followers instead voted for her most famous attributes.