Emma Watson for Interview Magazine, May 2009
Fab Cover: Emma Watson for Interview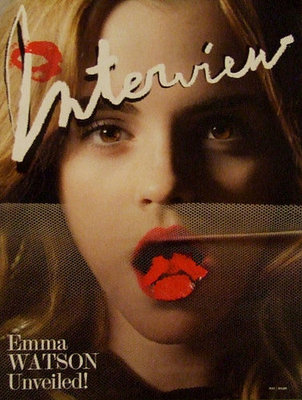 Emma Watson is becoming a major fashion name. Just last week it was rumoured that Emma is to be the face of Burberry Prorsum next season and now she is the cover girl of uber cool American magazine Interview. She joins the likes of Kate Moss and Marc Jacobs as stars of the Warhol founded publication.
Emma, who recently celebrated her 19th birthday was shot by A-list photographer Nick Knight of ShowStudio for the May issue. She poses with a lip printed veil as the editorial promises to unveil the actress.
I think you'd struggle to find an unattractive image of Emma and her features look amazing in this photo. What do you think of the cover?