Erin O'Connor, Lily Cole, Carmen Dell'Orifice for Qasimi Autumn 2009
London Fashion Week A/W 2009: Qasimi
The sun is shining brightly for the second day of fashion week as BellaUK and I headed to St Mary's church in Marylebone. Qasimi was a surprise treat last season as the impressive designs wowed a packed room, so I was excited to see the new line. Autumn '09 was even more astounding as some of the biggest names in catwalk fashion presented the dramatic gothic collection. The model list read as a who's who of British fashion from '80s model Yasmin Le Bon, to BFC member Erin O'Connor to doll-like Lily Cole via a range of other beauties including, Jade Parfitt and Jasmine Guinness.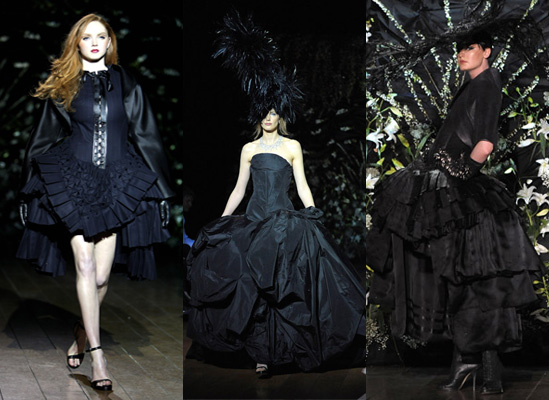 The fame of the models did not overshadow the clothes which were beautifully sculpted couture like pieces with plenty of drapes, folds and volume. There was a distinct Victoriana theme (possibly influenced by the upcoming movie The Young Victoria) with exaggerated bustles, corsetry and ladylike high necklines.
To see further images, just read more.
The designs were given a contemporary twist, of course, by the use of leather and short hemlines. The theatrical ensembles were rounded off with equally as theatrical millinery, none more so than on the final model who initially concealed her face with a feathered hat. This was the pièce de résistance of the event as classic model Carmen Dell'Orifice returned to the catwalk. If it's not already obvious – I loved this show!