Exclusive! Fearne Cotton Talks About Her Very Spring Summer 2011 Collection
Fearne Cotton Tells Me About Her Latest Very Collection
Fearne Cotton held an event in London yesterday to launch the latest installment to her Very range. The presenter has created cute dresses for Spring '11 and was wearing one of them at the party where guests included Leigh Francis and Kimberley Walsh. I had a good natter with Fearne who remembered me from our previous meeting back in 2009! She looked glamorous with her new hairstyle (more on that later) and was happy to chat about her latest designs. See below to hear what she had to say.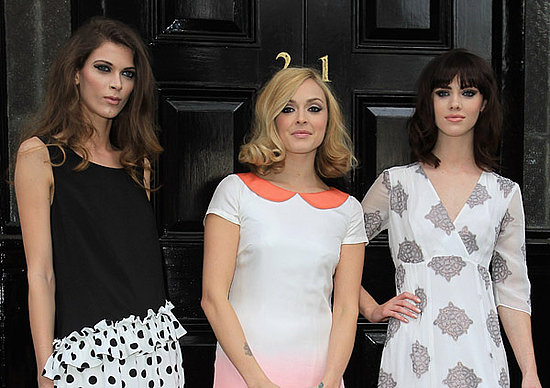 Can you tell me about the inspiration for your latest collection? This is my fourth collection, so I feel like I'm at a really nice place where I can experiment a bit more now. So I can make the collection bigger and bolder and brighter! It started when I was doing the sketches for Spring/Summer and I was really thinking about those feelings you get when you're first in love when you were younger. It's like your stomach's in knots and you're feeling on top of the world.
To hear more from Fearne, just keep reading.
(Cont'd) I wanted all the dresses to be very floaty, something that you could run through a corn field in! Really dream-like clothing. There are bold colours like this dress (points to her outfit) and then you've got the neutral ethereal stuff and then some real wow pieces as I wanted something that you might wear to a prom or a fancy Summer barbecue! Hopefully there is something for everyone in there.
It feels a bit more mature, do you think that is fair? Yeah definitely. When I first did an Autumn/Winter collection a couple of years ago, it was real trial and error for me. Was I designing for myself? I didn't know the Very customer at this point, but now I think it's got to the point where I know what they like, I know what I like and we learn from each other. I love it, because I hate being bad at things, so when I first started it was really frustrating. Now, I feel like we're at a place where we work really harmoniously, which is nice!
What kind of girl do you imagine wearing the collection? I always try and keep my girly friends in mind and all of us are different shapes and sizes, heights, different style backgrounds etc. I keep all those lovely women in mind, but I think this collection is for girls who are going to go out and have a brilliant Summer. They're gonna go on holiday with their girly friends or go to a festival and they just want to have a good time. It's the cuter side of being feminine, rather than it being sexy or glam.
Stay tuned for more from Fearne when she tells me about her favourite brands, her dream Mulberry bag and her new hair style.