Exclusive Interivew with Herve Chapelier
Hervé Chapelier Talks Shop In His Paris Shop!
Hervé Chapelier is a charming man. Whilst shopping around for an oversize travel tote in his store on rue Saint-Honoré, the It shopping street in Paris, I was debating the perfect color combination (aren't his nylon bags just so much fun), when a 60-something-year-old chap told me to "Go with the black. You can never go wrong with black." I smiled and the saleswoman humbly introduced him in French, as Monsieur Chapelier. I of course got giddy and told him how much I loved his bags and had been using them (along with my mother and friends) since my college days.
Hervé has an interesting background as a self made success. He was born in Biarritz and moved to Bordeaux for school. Soon after graduation, he moved to Los Angeles where with only $500 in his pocket, he decided to create his first handbag. At the very beginning, he'd sell one or two at a time to friends, but quickly came the requests for more. So, soon after, he began his first round of production with 500 bags that quickly sold out. He then went back to France where he decided to reside and made another 1,200, 1,800 and so on.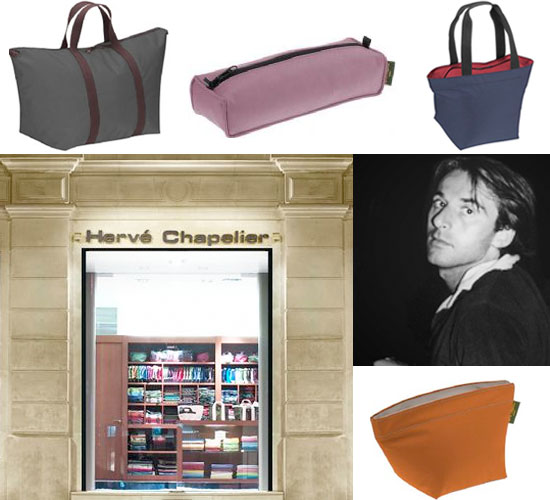 Now with boutiques in Japan and France and availability throughout Europe and Asia, Hervé Chapelier is an international name with future possibilities to open stores in London and New York. Before he left me to go for a swim at the Ritz Hotel (where he also typically eats and drinks), I did a quick, and quite fun interview. To find out all about it, read more.
What is your favourite part of Paris? I love the 8th arrondissement, which is where I live. I actually live in Pierre Cardin's former apartment.
What's next for the brand?
I have dabbled in cashmere and men's shirts, but mostly, I like to stick with the bags. The cosmetic travel cases could also use some improving.
How involved are you still in the design process? I do all of the designing myself and I always have.
Which is your favourite product? I love the new collection along with the overnight bag that you chose.
Would you autograph my bag for me? With pleasure.
By the way, I chose the black bag with brown trim. Which colour Hervé Chapelier bag is your favourite?