Exclusive Interview with Alexa Chung at Twenty8Twelve
Exclusive! A Few Fab Words with Alexa Chung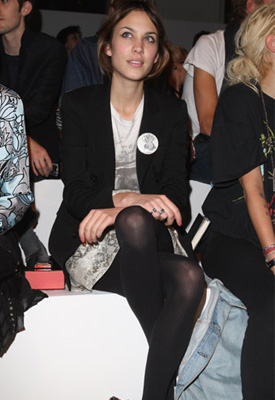 Last week, BellaSugar UK and I managed to catch up with style icon Alexa Chung at the Spring 2010 Twenty8Twelve show. Yesterday, her beauty secrets were revealed and now here is her quick chat with me about her favourite shows, her plans for the week and her Mulberry bag.
When we met she was wearing a The Smiths t-shirt and a silver jacquard mini skirt showing off her enviable pins. She sat in the front row next to Anna Wintour spurring rumours of a possible Vogue US appearance for the MTV presenter. Despite living in New York, she came to London for fashion week and attended many shows including Luella, Charles Anastase and Burberry Prorsum.
To hear about my chat with Alexa, just read more.
Did you enjoy the show?
I thought it was great. It was really nice. I liked the green jumpsuit and I liked the end look a lot. My favourite bit was the t-shirt that was fashioned in to a sort of swimsuit.
What has been your favourite show this week?
A toss up between Luella and Charles. I mean Charles Anastase, everyone thinks I'm saying Giles!
Are you going to Burberry tomorrow?
Yeah I'm DJing at the party.
Earlier in the week Mulberry unveiled their Spring collection which includes a bag named after you! Are you excited?
Yeah! It's good isn't it? I've got two!