Exclusive Interview with Bay Garnett
Exclusive Few Fab Words With Bay Garnett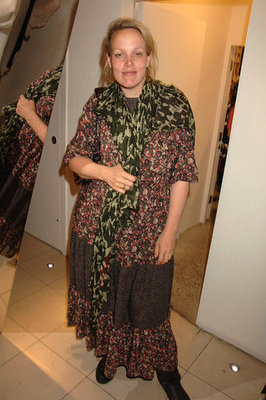 When we meet, Bay Garnett had only given birth 7 days before. She is truly dedicated meeting me with her baby daughter sleeping silently on the sofa next to us. She is working to promote Shop Style UK where she has already created many looks using her style icons as inspiration. She describes the style books as a virtual 'mood board' or a dressing up box which is great because "going shopping is a bit of a nightmare."
Bay made her name as a stylist working on publications such as Vogue and with design houses Chloe (the Bay handbag is named after her), Louis Vuitton and Matthew Williamson. She went on to launch the Cheap Date magazine with Kira Jolliffe before together writing The Cheap Date Guide to Style.
We caught up with her to find out if she was still passionate about thrifting, how motherhood had changed her and her top shopping tips. To see the interview read more
You have previously been described as a 'Thrift Pioneer', do you still consider yourself to be?


Not really actually. Because I think that thrifting is something you do when you've got time on your hands, it's a leisurely pursuit. You go to so many thrift stores and there's a lot that you don't find stuff in. You have to be going quite a lot, and keeping up because that's the great thing about them you don't know what you're going to find and where. So if you go to one a week you might find something great, you might not. I think that I did do it really passionately and I think that I did it quite well. I found really good pieces that weren't necessarily expensive labels but I would never call myself a pioneer at anything. I still love charity shops but I don't do it so much anymore.

Has being a Mother changed you?


Definitely! It changes your priorities, you know? I'd rather be with my children than running round finding clothes. I don't have the time to do that kind of thing anymore. And I don't have the want. I don't have that same relationship with clothes.

What impact has the eco fashion movement had on thrift shopping?


I don't think it's had much of an impact personally. I'm all for it but I think it's quite a separate thing. I think that if you're in to second hand clothes its sort of in your blood. You sort of like the thrill of the hunt. I was never in to ecology clothes, I was always in to thrifting. So I never sort of explored that. I was never interested in that side of things really. Although I like the idea of it, it's great rather than clothes for £2, I don't like that.

Do you shop thrift stores online?


No, not so much. Because for me it's the thrill of the chase. I like being in the shop, especially in America. Because you go to the Salvation Army in Queens or somewhere like that and you have the radio on and you'd hear Sam Cooke. It was a real experience. It was one extreme and to keep doing it on the internet is just too cut off for me. If I'm going thrifting I'm going thrifting. I'm going to go and have a rustle round and look at the bric-a-brac, look at the toys for kids. It's a whole thing and its about the shop. Its not as sterile, it's much more sensory than that for me.

Any must have items to look out for this season?


Black patent jackets, pumps, velvet jackets by Yves Saint Laurent or Dolce and Gabbana. The High Street is doing that too. Lace is always really nice, but do it your own way. Lace is always lovely, isn't it? Maybe more antiquey rather than High Street . Like an antique bolero, the markets are good for that.
Bay's top London thrifting hot spots:
Red Cross, 67 Old Church Street, Chelsea,
Oxfam, 144 Notting Hill Gate, London,
Red Cross, 85 Ebury St, Westminster,
Traid, 119 King Street, Hammersmith,
Portobello Market, Notting Hill.
Enter our competition for your chance to win a signed copy of The Cheap Date Guide to Style.