Exclusive Interview with Cat Deeley at Matthew Williamson Spring 2011 Show in London
Exclusive! A Few Fab Words With Cat Deeley
After watching the gorgeous, colourful Matthew Williamson show, I managed to catch up with one of the front row stars – Cat Deeley! The British presenter was full of smiles and chatted happily with Matthew's parents before having a quick chat with me. Cat attended a lot of shows throughout the week including Burberry Prorsum, Vivienne Westwood and Emilio de la Morena.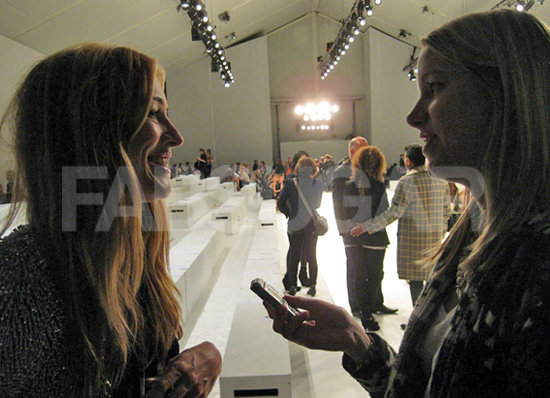 To find out what Cat had to say and for images, just read more.
Can you tell me about what you're wearing?
I'm wearing Matthew Williamson jacket, and a little t-shirt, leather trousers from Jitrois, Mulberry bag, and Links of London jewellery.
Did you enjoy the show?
I loved it. I've already picked out some pieces. I loved the parachute dresses with the cape at the back. I love the iridescent little mini dresses that look as though they should be in Studio 54, a little bit python and rainbow! I also really, really loved the leopard print coat with a little bit of embellishment around the arms, so yeah I loved it.
What shows have you seen this week and which trends have begun to emerge?
I saw Mulberry which was very ladylike and I saw Julien Macdonald which was very lingerie-ish! I don't know if I'd be brave enough to wear some of those. I then saw Vivienne Westwood which I really loved too. Matthew is always my favourite of all favourites though! He'll be getting a note about which pieces I want to wear.