Exclusive Interview with Paul Costelloe at London Fashion Week Spring 2010
Exclusive! Few Fab Words with Paul Costelloe
Paul Costelloe has been opening London Fashion Week for six seasons and Spring 2010 was no exception. He began proceedings with an architectural inspired collection with futuristic shapes. After the show, BellaSugar UK and I went backstage to catch up with the man himself where it was a very family affair! At least three of Paul's six sons were proudly chatting backstage whilst their father charmed the press.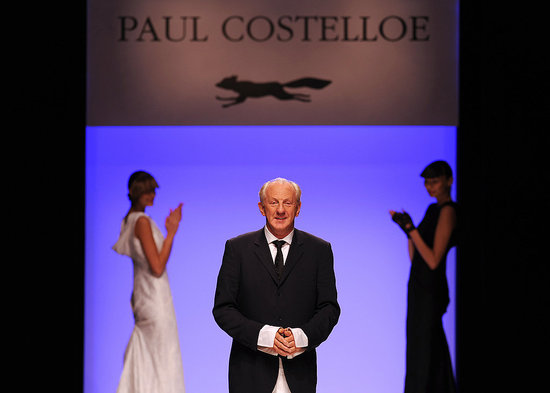 To read my interview with Paul where he discusses his inspiration, menswear and his love of women, just keep reading.
Can you tell me a bit about the inspiration behind the collection?
It was a challenge. I was trying to move it forward from Autumn. Last season I started building up the shoulder and this was an extension of that, moving it in to a more futuristic styling. I was going to call the collection broken glass because it was like when you smash a window pane. We are using quite expensive materials which carried that form. I tried to keep it feminine and not too masculine. I suppose that's my nature because I've got an attraction to women, and hopefully that shows on the catwalk. I don't want them to look anything other than feminine and attractive, rather than being too tarty. I want it to look approachable without expecting her to go to bed with you!
Can you tell me about the fabrics you used?
The fabrics I use are either generally a blend of manmade fibre and silk or else 100% raw silk, or else a very heavy linen. Most of the fabrics come from Italy.
Why did you decide to do menswear this season?
I have been doing menswear for the last two seasons, but this was the first time on the catwalk. I thought I would introduce it in a very soft way, as a way of framing the ladieswear. I always believe that the women should be the peacock and the men should just be the frame behind them. So my menswear is very low key, I believe the fashion statement is in the way they walk.
How do you feel about the new venue?
I love the new venue, I think it's got a bit more space, it's not claustrophobic. The catwalk seems to be longer, which is fine because then it slows down the show and you can get your models out on time. Overall I think it's very positive. Although, I'm sure there will be loads of people moaning because we're in London!