Exclusive Interview with William Tempest at London Fashion Week Spring 2010 2009-09-28 10:00:18
Exclusive! Few Fab Words with William Tempest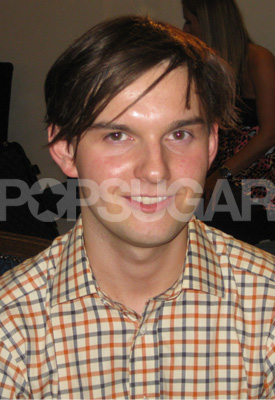 Last week at London Fashion Week, I was milling around backstage with BellaSugar UK who was getting the scoop on the hair looks for the William Tempest show when I bumped in to the man himself. I grabbed him for a quick chat about his latest collection and was pleasantly surprised to find him acting calm and looking very together.
The young designer missed out on Fashion Fringe in 2008, but did manage to bag himself a Vauxhall Fashion Scout sponsorship ensuring him a place on the schedule for three seasons. The Cheshire born designer studied at London College of Fashion and despite only graduating two years ago has already won critical acclaim from The Telegraph's Hilary Alexander and Vogue's Dolly Jones.
He spoke to me about Emma Watson, his Spring inspiration, and influential designers. To hear what he had to say, just read more.
You seem very calm
Yes, very calm. Well, we were casting all day yesterday so their outfits are sorted and everything.
What has been your inspiration for Spring 2010?
It's been very Bond inspired and I was also looking at the Crazy Horse in Paris (the burlesque show). So I went to Las Vegas and took photographs of the dancing ladies and that inspired the print for this season. I also looked at 1940's underwear advertising.
Do you have a favourite piece from the collection?
It's probably the first look which is like a peach satin corseted bunny suit which is playful and there's a lot of ribbon detailing. It's kind of like a ribbon of fabric which sticks out from the body to create shape and different pockets on the body.
You've gained celebrity support from Emma Watson who wore one of your designs to The Tale of Despereaux premiere. Did you know she was going to wear the dress?
Yeah, Emma's got quite a few pieces from me and I got a text just before she was on the red carpet saying she was going to wear it. It was really exciting and a big moment for me, I mean, the press after that just went insane. I think it's really good because Emma's young, and I'm young and it's nice that we can kind of support each other.
Is there anybody that you would like to dress that you haven't yet?
Yeah I would love to dress Dita von Teese. She actually has some of the pieces from the last collection, but I'd love to work with her again. I'd also like to dress Cate Blanchett and Julia Restoin-Roitfeld.
Have any other designers past or present influenced you?
I really like Claude Montana and Thierry Mugler so maybe slightly inspired by those. I also really like the brand of Chanel and admire the drive and ambition of Gabrielle Chanel. I find that very inspiring.
Have you started thinking about Autumn 2010 yet?
Well, I'm going to Dubai tomorrow and then I'm going to Paris to sell the collection so it's going to be a bit hectic. Hopefully I will get some time in Dubai to start thinking about the next collection.