Exclusive My-Wardrobe Pick Their Spring '09 Fashion Buys
Exclusive My-Wardrobe Pick Their Spring '09 Fashion Buys
As the new season approaches, we've asked experts from the fashion world to pick their top five Spring items. We've chosen the buying team from designer boutique My Wardrobe to kick off the season. First up is the Norma Jean striped jersey top by Vivienne Westwood Anglomania. It "combines three big trends — draping with luxe jersey and stripes, totalling to another big trend – nautical".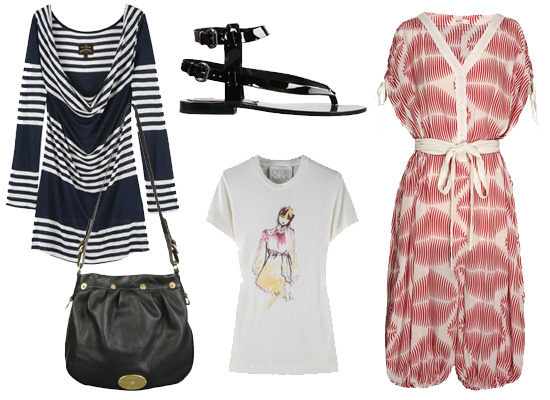 The second item is a pair of black patent flat thong sandals from Kors By Michael Kors. My wardrobe think that they are the ultimate in "understated chic and perfect with almost any outfit".
To find out about the rest of the picks, just read more.
We've already told you about some of the new season Mulberry handbags and here is another, the Mitzi messenger x-body bag. This one is so soft and "x-body messenger satchels are this year's tote — practical, stylish and hands free!"
The plain tee gets a make over at Ossie Clark where, "original sketches from the design team are printed onto luxe cotton t-shirts. A perfect opportunity to both own a piece of iconic Ossie Clark at an affordable price, and a piece of art!"
Last but by no means least is the Totem jumpsuit. "The 'Jumper' is a huge trend for SS09, this Totem number is perfect for warm spring days."