Fab Ad: Burberry Autumn/Winter
If you haven't already heard of Rosie Huntington-Whiteley then add her to your radar because you're going to hear so much about her over the next year. The Devon born model is the latest hot, young Brit to be cast by Christopher Bailey for classic British label Burberry. Huntington-Whiteley stars alongside actor Sam Riley in these black and white shots by Mario Testino. They were actually taken at Kensington Gardens and despite Agyness not appearing in the campaign, Bailey insists that she is still very much a part of the Burberry family.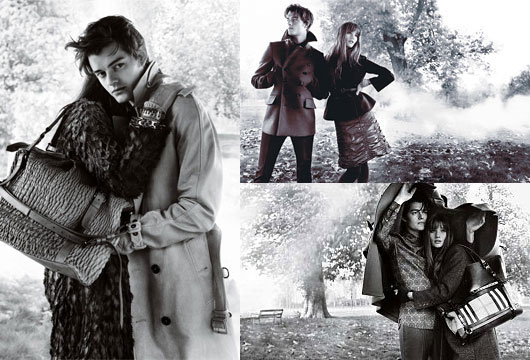 There is a lot of atmosphere in the pictures and they certainly make the grey weather of old Blighty seem quite glamorous. I also like the way it features two classic Burberry aspects, a trench coat and the Burberry tartan. What do you think of the ads?