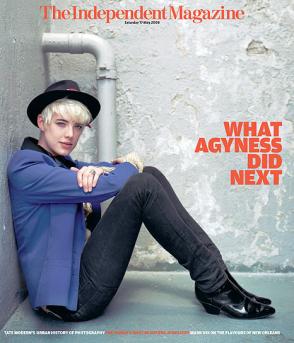 The Independent caught up with model du jour Agyness Deyn recently in New York. She spoke out about her mad rise to fame, recording with Five o'Clock Heroes and how she hasn't turned in to a diva just yet.
Talking about her lifestyle she explained, "Despite what you may read about me, I'm not the kind of person who has a lot of friends, and I'm much happier just mixing in my small circle. I don't really go to fashion parties; they're not my scene. Well, of course they're precisely that – my scene – but I'd much prefer to go to gigs."
She also spoke about her prefered way to travel. "I do fly first class, and that's a luxury I've no problem with. Agencies always want to send big fat cars to pick me up for appointments, but if it's in London or New York, I'd much rather just cycle there on my bike. I like my bikes [she keeps one on either side of the Atlantic], but people think I'm, like, eccentric for insisting on pedalling to work. But millions of people do that every day, don't they?"
To find out further about her first single read more
Agyness also mentions Anthony whom she recorded the track 'Who' with. "Anthony's like my big brother out here. He looked after me when I first arrived, he bought me my first guitar, and we hang out a lot in his studio space with the band. I've more fun there than I have anywhere else, pretty much."
She went on to say that she wasn't quitting modeling just yet, "I don't want people to think I'm getting ideas above my station here. And I don't want a backlash, either. I know I'm no Whitney Houston. I just had a bit of fun with a mate, that's all. Doesn't mean I'm putting my modelling career to one side just yet ...""