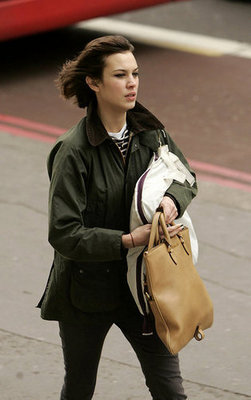 Vanity Lair presenter Alexa Chung has been speaking to The Guardian about fashion, her relationship and her aspirations to talk about books on Radio 4. She also discussed her stylist, Steph Stevens who chooses her clothes for television appearances.
"But in all the pictures you see in the papers I've chosen my clothes. People are shit when they deny they have a stylist, but she hasn't changed how I dress. She literally has the discount cards. And she got me into stripes."
She also talks about 'Team Evil' which includes LA band the Like, the model Valentine Fillol-Cordier and Kelly Osbourne, she describes them as,

"Like the hottest collection of girls ever! And they're evil. We're having some Team Evil Awards, awarded for how many hearts you've broken in the year. Like the New Member Award - we're going to give to Agy (the model Agyness Deyn) because we're trying to recruit her at the moment. But we're not sure that she's a heartbreaker, because she's too nice. She doesn't look evil. We made T-shirts, and they've got Lolita sunglasses with Team Evil written on them - you have to be obsessed with Nabokov to be in Team Evil."
Could those Lolita sunglasses be the pair we spotted Kelly in during London Fashion Week? Look out for Agyness sporting a pair.
Source