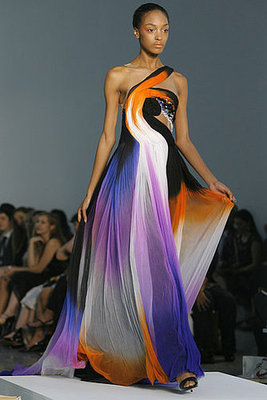 Jourdan Dunn has been very busy recently appearing on the catwalks in New York and London for the likes of Rodarte (pictured) amongst others. She was famously discovered in Primark in Hammersmith and lives in West London with her Mum. This weekend The Sunday Times caught up with her. I am continually impressed by Jourdan who manages to remain level-headed despite the pressures of being a model.
She commented on her body image stating, "I'm not comfortable with my weight. I would like to be more womanly, like Beyonce. In the black community, it's all about having a big bum."
Jourdan, who is never afraid to speak her mind, also commented on the current view of teenagers. "I don't think every teenager is getting smashed. I got drunk when underage and was sick in my Mum's car. I never wanted to get drunk again. It was not a good look."