Fab Blab: Karl Lagerfeld Thinks London is Demode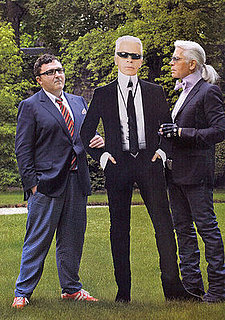 Numero magazine recently caught up with Karl Lagerfeld and Alber Elbaz to ask them about life in Paris, the demise of Haute Couture and their Mothers. At one point we see Alber get slightly irritated by Karl as he refuses to define his nationality. Having lived in Paris for the majority of his life, you might think that Karl considered himself to be a Parisian however this is apparently not so. "I like to think of myself as an inside stranger, no matter where I happen to be." Alber pushes him asking if he is German, French or American.

"I suppose you could call me European, although I tend to forget once I cross the Atlantic. When I was young, I always felt as though I was missing the party whenever I left Paris. These days, I just take the party along with me."
To find out why Karl thinks London is demode read more
Earlier in the interview Alber describes Paris as a, "terribly grand and yet laid-back old Dame" following his comparison of London, Paris and New York. Karl is almost disgusted arguing, "Don't tell me you ever thought that London was any better. Please! New York, perhaps, but not London."
On behalf of the people of London, I'd like to formally state that we're offended. All those in favour say "Aye".
Source