Fab Blab: Keith Richards on Fashion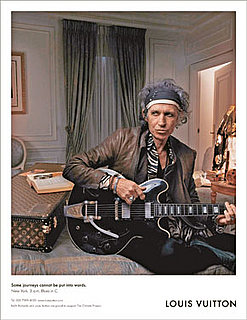 You may remember that in March Keith Richards was the latest unusual choice of ad star for Louis Vuitton. He has recently spoken to The Times about his decision to appear in the adverts. He said, "I got a guitar case out of Louis Vuitton. They paid me a lot of money and it's all going to charity. I'm going to charity." He went on to claim he had no knowledge of fashion, and even opted for a slightly odd wardrobe. "When I got older I wore my old lady's clothes. If you notice, all the buttons are the other side."
However, you might not want to share clothes with the rocker who also confessed, "I don't do underwear. I never do the washing. How would I know whether my clothes stink? I throw them away." Don't suppose we'll see him hanging out with Stella McCartney or appearing in PETA ads just yet then...