Fab Blab: More Words of Wisdom From Karl Lagerfeld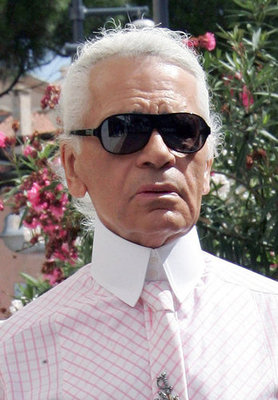 I almost feel like this should become a weekly column as Karl Lagerfeld is almost as renowned as Roberto Cavalli for saying controversial things to the press. However, Karl is more likely to present the world with a contradicting, frankly baffling statement than to join the latest press slagging match. Which is why I am so fond of the great Kaiser! This weekend The Times published an interview with Karl which took place after the latest Chanel couture show.
He talks about the usual subjects; how he loves books – "I'm mad for books. It is a disease I won't recover from. They are the tragedy of my life. I want to learn about everything. I want to know everything" – his passion for fashion – "What does it mean – career? Everything I do is my passion." – and his Mother – "'You may be six years old, but I am not,' she used to say."
To find out what else Karl had to say read more
But he also discussed his latest projects one of which is to design 80 luxurious villas on Isla Moda ("Fashion Island") in Dubai.

"They sent a private jet.I said, 'It's too small. I need a bigger plane.' It's fun, no?"
He was questioned about the many identities of Karl and merely stated,

"Fashion doesn't have to be your identity. Who cares what people think? As long as you agree with yourself, that's enough, no? I judge nobody. I laugh about myself. That I can do; I know myself pretty well."
My favourite comment from the interview came when Karl was asked to chose between photography and fashion.

"I would rather commit suicide than have to choose between them. What can force me to be one? I like to be all. The different aspects make the one man."
What do you think of Karl's comments? Do you think he's being honest or is it another ploy for press attention?