Fab Blab With Rosie Fortescue of Made In Chelsea
Fab Blab With Rosie Fortescue of Made in Chelsea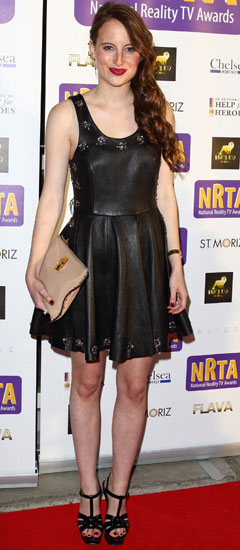 If there's one thing us Chelsea girls have in common, it's shopping, and if you live in the neighborhood, there's a chance we'll eventually have a run-in. So, I was happy, although I can't say entirely surprised, to share a smile over a lilac dress at Austique on the King's Road with Chelsy Davy. Wow does she have a killer body. Then, just a few blocks away at couture beach boutique Bondi, I bumped into Rosie Fortescue and Milly MacKintosh from Made in Chelsea.
They are both so sweet, and Rosie and I set up a coffee date where we talked about everything from the show and clothes to rose gold jewellery, beauty, her blog, and what the future has in store for this well-spoken, fashion-forward 21-year-old. She is currently an intern at Issa and is deciding between a career in fashion or jewellery. However, she's also working at a cupcake shop and seems to really enjoy that, too. I'll give you more insight into her beauty bag later, but for now, here's a bit on the fashion portion of our coffee talk.
FabSugar UK: What are your favourite places to shop in Chelsea?
Rosie Fortescue: I love Austique on the King's Road. My twin sister Lily actually works there, and I absolutely love the shop at Bluebird. I could spend all day in there.
Rosie is pictured here wearing a black leather Felder Felder frock from last night's National Reality TV Awards where she presented with co-star Spencer Matthews. To read the rest of the interview, just read more.
FSUK: Who are your fashion icons?
RF: There isn't really anyone that I aspire to dress like, but I suppose if I had to choose one person it might be Leighton Meester. I really like her tailored look. I just dress for my body and wear what fits me, whether it be designer or High Street. I've been wearing a lot of silk and leather right now.
FSUK: I can see from your blog that you wear a good amount of High Street brands. How do you think Mark-Francis feels about that?
RF: (She laughs). I wasn't actually in the scent at Raffles where he talks about his distaste for High Street, but he dresses really well.
FSUK: What are some of your favourite brands?
RF: Currently, the British designer I quite like is Christopher Kane, but I'm also very much into French tailoring. I especially love The Kooples, Sandro, and Maje.