Fab Field Day: Frock Me! Vintage Fashion Fair
London is becoming famous for its array of vintage stores and its style is increasingly eclectic. However, with the ever rising price tag it's difficult to guarantee value-for-money pieces so vintage fairs like Frock Me! are a great way to add key pieces to your wardrobe. Frock Me is one of London's best kept shopping secrets and is considered to be the place to pick up a vintage bargain. It takes place at Chelsea Town Hall on the iconic King's Road, an apt location for a sale of 20th century fashion. There's something quite exciting about browsing through racks of '60s shift dresses on such a historical shopping road.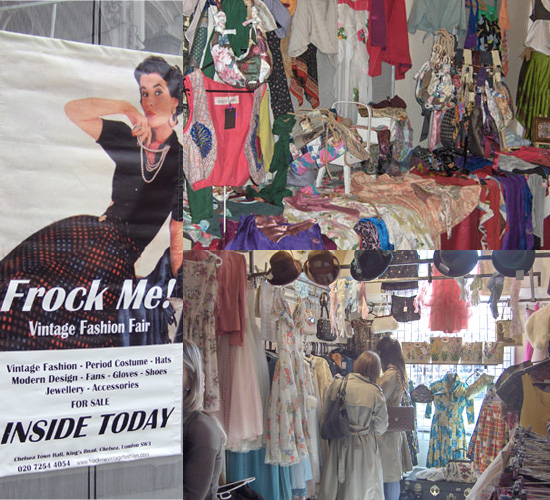 Three rooms are filled with vintage stalls for the fair showcasing a range of retro pieces including accessories, shoes, and clothing. It is predominantly a fair of womenswear but there were a couple of stalls offering menswear pieces including sportswear, formal items and classic accessories.
There is often a slight fear with these events that either there will be nothing of interest, or worse that everything will be overpriced. However, Frock Me literally caters for everyone offering an impressive range of pieces from throughout the 20th century including designer pieces by the likes of Pucci, Ossie Clark and Emporio Armani.
I also spotted a couple of Biba items for under £80. You could easily get a '60s shift dress for £30, and there were a couple of '60s Laura Ashley dresses for £65.
It would be a great thing to go to if you were looking for a dress for a specific event rather than just browsing as I saw lots of items I would buy if I had any reason to wear them, and you would definitely get something unique.
If you're looking for anything specific which you can't seem to find it's definitely worth speaking with the stall holders. They all seemed to be very helpful and despite many not being based in London they were happy to accomodate peoples needs. One seller hailed from Bristol but explained that she regularly visited London and was happy to seek out key pieces for customers.
The next fair takes place on Sunday 13th April, there is surely no better way to spend a Sunday afternoon?