Fab Field Day: Swedish Fashion at the FTM
The Fashion and Textiles Museum is one of my favourite spaces. It's a little off the beaten track, but its bright orange and pink exterior ensures it doesn't go unnoticed. Their Spring exhibition celebrates Swedish fashion and its upcoming design talent. You may think you don't know anything about Sweden's fashion scene, but I'm sure you've stepped inside a H&M once or twice and are familiar with Acne denim.

Neither of those are showcased here. Instead it offers a new collection of names, which are sure to leave you impressed. Ann Sofie Back, who has been showing in London for several years but began her career studying in Stockholm, has items here. Pieces by her sit nestled in the exhibit between gorgeous knitwear by Sandra Buckland and couture like dresses by Fifth Avenue Show Repair, along with plenty of innovative menswear.
To hear why the curator decided to focus on Swedish fashion, just read more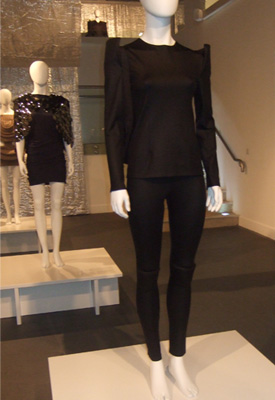 There is also jewellery on display which is quirky and shows the versatility of the discipline. A variation of materials are used including plywood, metal and found objects for some truly unique items.
I caught up with FTM curator Dennis Nothdruft who explained how "exciting" the Swedish fashion scene is right now. He added, "It (Swedish fashion) is something that you don't expect. We went to Stockholm Fashion Week and met all the designers and when you see what they're doing it's actually quite exciting."
Dennis added that the cultural differences in Sweden makes the scene more inspiring.

"I think it's really interesting because looking at Sweden and their culture there's kind of this idea of social democracy where everybody's equal. So, for people to do high concept fashion where it's purely personal expression and it's expensive...Well, they're not used to it."
Conversation inevitably led to the state of the economy but Dennis doesn't think Sweden should panic too much. "Sweden's going to be ok. Selling clothes was never the priority – a lot of them aren't in it for the money. They'll still do what they do. They don't have that massive industry infrastructure to support."
Swedish Fashion: Exploring a New Identity opens to the public on Saturday 6th February and runs until 17th May.
Source and Source