Fab Finding Follow Up: April Showers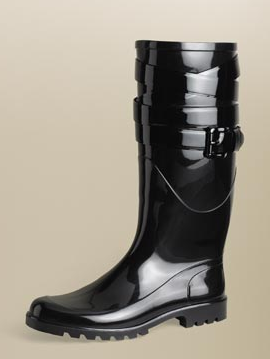 I think the high level of rain we're currently experiencing in the UK makes this weeks Fab Finding challenge more than appropriate! I asked you to put together an April Showers outfit and you did a great job.
Starting off with these slightly ridiculous Burberry wellies you were required to put together a look which would keep you dry.
Look #1 was created by gabitaitalia and would make the ideal festival outfit (especially with those denim hot pants).
To see the other looks read more
Look #2 was put together by Oxymoron who added a great patent Chloe mac and a bit of Spring time fun with a bright coloured skirt.
And last but by no means least Look #3 by dannysf was perfect for this season with plenty of navy blue and a great Gucci tote.