Fab Finding Follow Up: An Art Opening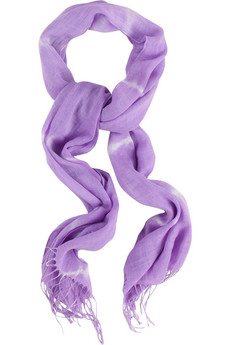 For this week's Fab Finding mission I sent you all of to put together an outfit for an art opening, and you did not let me down!
I started you off with this funky Michael Kors tie dye scarf and said it should be the right balance of casual and smart.
Look #1 was created by mstinalin. I especially liked the idea of a contrast between the scarf and the white mini dress. I also loved the Stella McCartney clutch.
To see the rest of the looks read more
Look #2 was put together by gabitaitalia. This look also includes a white dress (popular choice) but also a so-on-trend tuxedo blazer which I love.
Look #3 is by KikiM and I chose it because I loved the way she co-ordinated the earrings with the scarf. She also went for a plain dress but a black structured one by Balenciaga.