Fab Finding Follow Up: Indie Club Night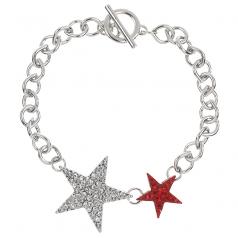 Festival season is not far away but in the mean time, going to indie gigs is the best way to check out new bands. However, deciding what to wear can be as tricky as dressing for a big night out.
This week I started you out with this Mikey double star bracelet and you were required to put together a funky indie club/gig outfit.
Look #1 was created by KikiM. I especially love the jacket and the Louboutins!
To see the other looks read more
Look #2 was put together by gabitaitalia and I particularly liked the star scarf.
Look #3 is by maria212134 and includes some great leopard print shorts.