Fab Flash: Aretha Starts Hat Trend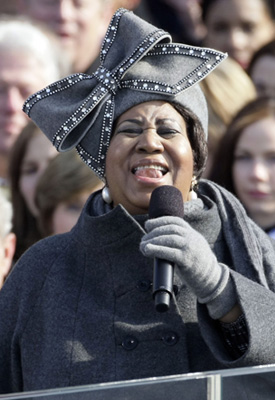 Whilst Michele Obama pretty much made Jason Wu's year (if not life) by encouraging a staggering 4 million hits to his website, and the young Obama girls made the J Crew website crash, another style revolution was also taking place. Aretha Franklin performed at the Inauguration on Tuesday in a rather eye-catching piece of headwear.
The hat was designed by Detroit-based milliner Luke Song and made of grey felt cloche, adorned with a Swarovski crystal-encrusted bow. Luke has since been inundated with requests for the hat which was specially made for Aretha. Although he will not reproduce that actual style, he has been offering an alternative satin ribbon version, costing $179 (£129).
Bows are big for Spring 2009 and this hat has put statement bows on the fashion map.