Fab Flash: Carla Bruni Bag Causes Controversy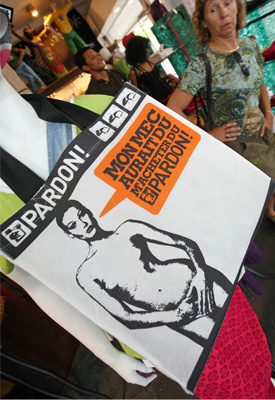 A shopper bag by Pardon has caused controversy this weekend which looks likely to end in a court battle. The white shopper features a naked image of Carla Bruni-Sarkozy taken in 1993 with the tag line "My guy should have bought Pardon!"
There are currently 10,000 of the bag is circulation but France's first lady isn't dealing with the issue lightly. Her lawyer Thierry Herzog told The Telegraph, "Carla Bruni-Sarkozy has exclusive and absolute rights over her image," and added that the photo had been used "without her consent and to promotional and commercial ends."
Carla is asking for 125,000 euros in damages which she intends to donate to charity but Peter Mertes founder of Pardon argues that the picture was of "a public woman - you find photos of her everywhere."
The bags are being sold for just three euros or are being given away with purchases.